---
About PipalTree Technologies
PipalTree Technologies was created with one focus in mind: help small businesses enhance productivity and profitability through the use of IT resources. Unlike most others, we do not have committed partnerships with hardware and software vendors because we feel it coerces the business to use a particular product. This product might not be the best solution for the customer. Ultimately, this could diminish the value gained for our clients. Our One Focus approach dictates that the needs and budget of our clients come first.
The mere setup of computers in a networked environment is not sufficient for businesses to increase their IT return on investment (ROI). PipalTree Technologies strives to maximize work efficiency and ROI through the selective use and implementation of computing resources. With today's rapid technological advances, computer hardware is no longer an obstacle. Although software is abundant, many are inefficient and lacks the ability to adapt to your particular business environment. PipalTree Technologies offers the solution to bridge this growing gap. Simply, our Services and Solutions are devoted to increasing your business's bottom line. We strongly believe that computers, along with other IT resources, should support the business, not vice-versa.
Client Value Solutions and Services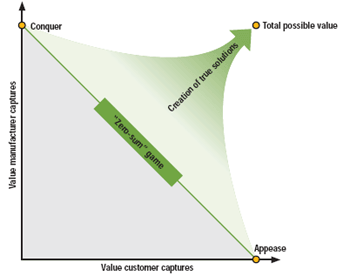 At PipalTree Technologies, instead of providing services and solutions aimed at gaining a greater share of client spending, we look for ways to help clients create more business value. Rather than pursue the popular role of packaging traditional products with a range of new services—PipalTree Technologies is a Client Value Provider (CVP). As a CVP, traditional zero-sum negotiation disappears; both parties can win (see above image). When the client realizes significantly more value, PipalTree Technologies benefits by improving its competitive position and shares in the windfall it helped create.
PipalTree's process to provide Client Value Solutions and Services (CVSS):

First and foremost, we will study our client's business in order to determine their key goals and critical challenges.
We will then concentrate on helping clients achieve these key goals.
With our "lasting relationship" mindset, our clients become long-term partners. We will work with our clients to identify and implement current goals, while planning future goals.
Using our Client Value Solutions and Services (CVSS), both our clients and PipalTree Technologies benefit.
---